September 24th, 2007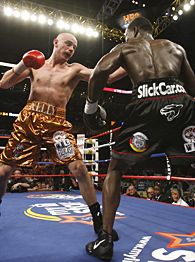 After a long lead-up and a lot of anticipation, finally we fight fans are nearing the start of what promises to be the most exciting three months that boxing has seen in years. The long-awaited Pacquiao-Barrera rematch (contested on the same night that Sam Peter fights Oleg Maskaev for his WBC heavyweight belt), the Diaz vs. Diaz lightweight unification, the Calzaghe vs. Kessler super middleweight unification, the Cotto and Sugar Shane samckdown at the Garden, the Vargas/Mayorga freakshow, and last but certainly not least, Floyd and Ricky Hatton in Vegas.
It's an embarrassment of riches, and I tell you people, the fight that kicks off the Fall '07 Fightfest this weekend may turn out the be the best of them all. Jermain Taylor and Kelly Pavlik meet up Saturday night with Jermain's uncontested middleweight title on the line. It's a fight that promises to be a jaw-rattling affair – both of these guys are big, hard-punching 160′s who like to bring it. After Pavlik's decimation of Edison Miranda on the undercard of the dreadful Taylor/Spinks fight, no one is underestimating Kelly The Ghost and many pundits are picking him in an upset. Right now the Vegas odds are just about even – Pavlik is paying even money and Jermain's at -130. That seems about right to me, although I confess that I too am leaning towards the Ghost. I'll have more on my rationale later in the week, but for now let me just say that I think in this battle of two bruisers that Pavlik is by far the more accurate puncher, and that will tell the story in the end. For exhibit A in this discussion I give you our Knockout of the Week below, Kelly's frightening sleepification of Jose Zertuche last January.